Baby boys height and weight growth size chart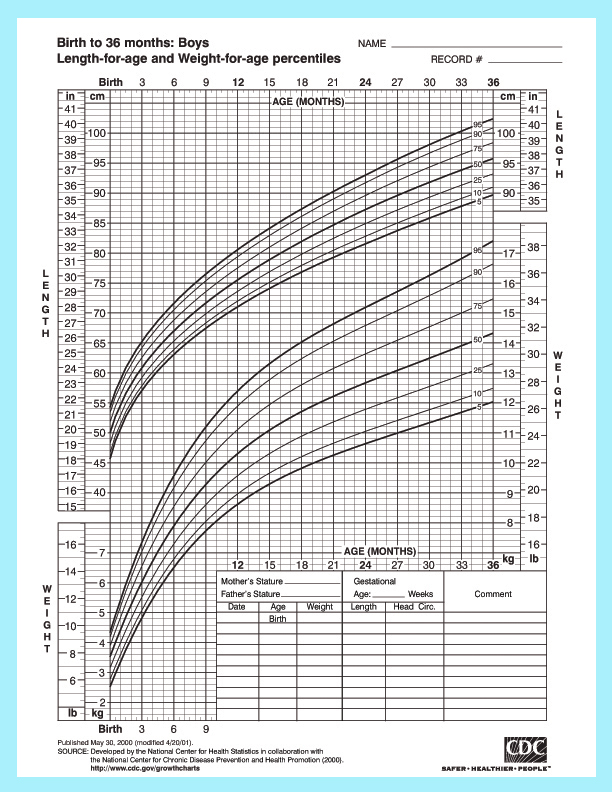 Please feel free to right click on the table and save it to your computer so you can print the chart.
This chart is taken from growthcharts at the CDC Center For Disease Control
Copyright © 2011- 2019 babysizechart.com. All Rights Reserved.
Many parents are concerned about the weight of there babies. In March of 2009, Elsie Taveras assistant professor in the HMS Department of Ambulatory Care and co-director of the One Step Ahead clinic, a pediatric overweight prevention program at Children's Hospital she stated that "there is increasing evidence that rapid changes in weight during infancy increase children's risk of later obesity." Measures of length and weight together reflect body fatness better than weight only. For more information about the study please see the article Infant weight gain linked to childhood obesity.
References:
Birth to 36 Months: Girls, 2000(modified 2001), Developed by the National Center for Health Statistics in collaboration with the National Center for Chronic Disease Prevention and Health Promotion (2000), http://www.cdc.gov/growthcharts
Elsie M. Taveras, MD, MPH (1,2), Sheryl L. Rifas-Shiman, MPH (1), Mandy B. Belfort, MD, MPH (1,3), Ken P. Kleinman, ScD (1), Emily Oken, MD, MPH (1), Matthew W. Gillman, MD, SM (1,4), Infant weight gain linked to childhood obesity, 2009, Harvard Medical School, https://hms.harvard.edu/news/infant-weight-gain-linked-childhood-obesity last accessed on , September 25, 2011.